Anne
United States
As a first time mom, you want to read about what to expect, but you don't want to read too many horror stories. I read a couple things here and there so I would have some idea what I would experience but I mostly told myself that my body was made for this. I was born to create new life and bring it into the world.
Other than first-trimester nausea I had an uncomplicated pregnancy. Because of this, I felt certain that my delivery would be similar. Little did I know…
I woke up at 4am feeling like I had to pee but it felt different. When I sat down I saw a little bit of clear fluid and thought, my water just broke. I woke up my husband and told him but felt sure that we would still have a lot of time before we needed to go anywhere – the first time is usually a long labor. So he asked if he had time for breakfast and a shower and I told him of course. At this point, I was feeling excited but calm. While he did his thing I got our hospital bag ready and the snacks I wanted to have on hand. I had one contraction about 20 minutes after my water broke, ten about 20 minutes after that I was having consistent contractions, 5 minutes apart about 45 seconds to a minute long.
I was still thinking I don't want to go to the hospital and be told to go home. I also didn't want to labor for hours on end at the hospital and be pressured into getting unnecessary interventions. But because they were so close together and were strong we decided to go.
We got to the hospital at about 5:15am, they hooked me to machines, asked questions, and I was laying in bed through contractions (worst feeling ever) until I was finally able to get up. I wanted so badly to labor in the tub because I had read so many wonderful things about it. When I was finally able to get in the tub I felt no relief; my contractions were on top of each other (hello transition). I was in the tub 5 minutes (at least I think so, time is a funny thing in labor) and I turned to Brandon and said "She's coming right now!" I guess the nurses heard me from the nurse's station and came in to check on me, and when hubby told them what I said they looked surprised but hustled to get me to the bed and get everything ready.
I was concerned, in the back of my mind, that my midwife wouldn't make it in time. I was grateful that she was on call that night because I really connected with her during our appointments and really wanted her to be there. She arrived right as I was starting to push.
With how quickly everything progresses I felt like there was no end in sight. I felt so much pain and remember telling Brandon that I couldn't do it anymore. He and my midwife stayed calm and told me that she was almost here. That I was almost done.
My daughter was born at 7:56am. Less than 4 hours from my water breaking and even less from the start of active labor. As much pain as I was in and even feeling so ill-prepared for such a fast birth, I would do it all again naturally. I was able to be fully present and aware. I could really be in the moment with my baby girl. And really, what more could you ask for?
(NOTE: Want a Perfect Birth Plan Template? Use this template and step-by-step videos to write a birth plan that gets your birth team on your side for a beautiful birth experience! Get the birth plan kit here.)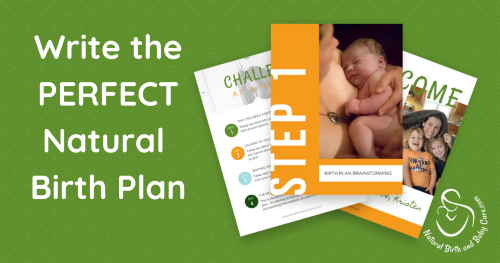 [no_toc]