Podcast: Play in new window | Download | Embed
Subscribe: Google Podcasts | Spotify | Amazon Music | iHeartRadio | Stitcher | TuneIn | RSS
Our new baby, Phoenix Arthur, has arrived! I share his birth story in today's episode!
Phoenix's birth announcement poem:
Our birth is but a sleep and a forgetting:
The Soul that rises with us, our life's Star,
Hath had elsewhere its setting,
And cometh from afar:
Not in entire forgetfulness,
And not in utter nakedness,
But trailing clouds of glory do we come
From God, who is our home
-Wordsworth
Topics I Cover in This Podcast:
The dream that let me know Phoenix was coming
Feeling – and doubting – his very strong presence!
Is it a sign? More messages about a coming baby
Drama at 37 weeks (and why I feel things happened then)
Handling going 6 days past my due date (hint: my house had to be Martha Stewart clean!)
My thoughts and feelings at the end of pregnancy… and why I felt a little crazy 😉
How labor began with Phoenix
What got Scott to literally jump out of bed and run to fill the birth tub!
Early labor clues
My favorite position for early birthing time
How I roared Phoenix out – and instinctively changed positions to finish pushing
Bringing up my own baby and discovering who he was
Why I feel like still I have so much learn from Phoenix's birth
Right-click here to download the MP3
Things Mentioned on This Week's Podcast
MamaBaby Birthing – my online birthing class series
Gentle Birth, Gentle Mothering – Sarah Buckley's excellent book, highly recommended for all pregnant mamas. I mention her second baby's birth story (included in the book) in this podcast episode
(NOTE: Want a Perfect Birth Plan Template? Use this template and step-by-step videos to write a birth plan that gets your birth team on your side for a beautiful birth experience! Get the birth plan kit here.)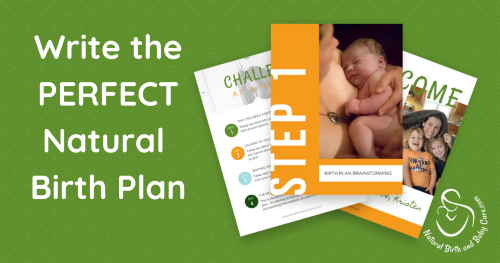 .

Birth, Baby, and Life Podcast
Kristen Burgess: Crazy About Everything Pregnancy, Childbirth, and Baby
The tips, tools, and straight talk you want for pregnancy, childbirth, and bringing up baby