My Unhindered VBAC
By Jodie, Canada
I was pushed back and about to fall, but the LORD helped me. The LORD is my strength and my song; he has become my salvation. Shouts of joy and victory resound in the tents of the righteous: "The LORD's right hand has done mighty things! The LORD's right hand is lifted high; the LORD's right hand has done mighty things!" Psalm 118: 13-16
On Thursday evening, September 8th, I noticed that I was making quite a few trips to the bathroom and wondered to myself if this had anything to do with an impending labour. I brushed it off though, as I wasn't expecting the baby to come until the 15th or even later. The next morning I got up with my 3 year old daughter at 7:00 am and we shared a bagel for breakfast. At about 9:00 am I noticed that I was having the equivalent to menstrual cramps. I was busy tidying the apartment, doing dishes and laundry and the cramps were not painful at all. I did eventually notice, however, that they were coming approximately 15 minutes apart. I called my mother and she told me to go lay down and see if they would go away. I didn't though. My husband, who is a graduate student, was wanting to go to the university to do some financial stuff and also go pick up a tape for the video camera, but I asked him to first clean the bathroom. By the time he was done, I had the feeling that he should probably just stay home and see how things went. I was starting to wonder if I might be going into labour.
At around 11:00 am I phoned my friend Sheila, who was going to come to our birth and gave her the "heads up" that something might be starting. We talked for 15 minutes, during which time I had three contractions, each exactly five minutes apart and each one felt a little stronger than the previous one. She said she'd call back in an hour and see how I was doing. It was getting time for lunch and I was getting increasingly less comfortable. I soon had to go lay down on the bed and focus on the contractions. By the time lunch was ready, the break between contractions was not long enough for me to eat: they were a few minutes apart. Sheila called to let us know she was on her way. I then called another close friend, Jen, to tell her I might be in labour and we could possibly have a baby by Sunday. After I hung up the phone I had a contraction and felt a pop and a gush of warm liquid: my water broke! I called Jen back to let her know. I had to stop talking when a contraction came and soon just had to hand the phone to my husband to finish the conversation as my contractions were coming close and strong (about 1.5 minutes apart). I lay on my side on the bed and laboured like this for a while. I asked my husband to take a look to make sure there was no cord and he said all he saw was bloody mucous and yellowish liquid. I had forgotten to talk to him about the different colours/textures of amniotic fluid and we couldn't figure out if it was "pea soup" or just "tea stained." I decided not to worry; I was too busy at that point anyhow and couldn't think about much other than getting through each contraction. As it turned out, it was just tinted yellow.
It was about 2:00 pm. Contractions were very intense and I found my mind wandering: "I could go to the hospital and end this right now" I thought to myself. Yes, I was contemplating a c-section! As I was having these crazy thoughts, I was lying there trembling. I felt that I should change positions, so I got up on my knees and leaned forward on the headboard of the bed. I had several very strong contractions, but decided that another change of position wasn't going to make a difference. At that point I was being very vocal, yelling loudly as each contraction peaked. I was also praying, crying out to God in desperation. At first, I prayed that He would just make it end, but then I let go and acknowledged that He was surely going to bring me through that pain. I prayed over and over "help me; help me Jesus!" Sheila had shown up and taken over looking after my daughter. My husband would come in and out of the room, knowing I wanted to deal with the contractions by myself, but also wanting to make sure all my needs were met. He did an absolutely perfect job of supporting me during my labour. The cute thing was that he kept asking if he could "check me" and I would cry "NOOOOOO!" The last thing I wanted was to be touched. The contractions were so close together, I had barely a moment between each one to gather my thoughts. I decided to take one of my breaks to check myself and I couldn't feel any cervix at all. Up high there was a soft, squishy thing… "is that part of me?" I thought. I didn't realise that it was the baby's head and it felt so spongey because of all the hair that was matted on top of her head. After checking myself (I did that about twice) the next contractions would come quicker and harder.
Before long, I had an overwhelmingly strong urge to bear down with a contraction. "What?!? Am I ready to push already?" I thought. Then I remembered how I had been trembling before when I was lying on the bed and realised that transition had already come and gone and that yes, I was indeed having the urge to push. I was still kind of in denial though; it felt all too soon. I thought about worrying about whether or not I was dilated enough, but there was no time for that! With each push I hollered loudly. I knew the Lord was right beside me, that he was in charge of this birth. I hung on to that headboard as if I were hanging on to His neck, as my body did its work. I said to my husband, "fill the bathtub." I thought that maybe some warm water would somewhat ease the pain that was going all the way down to my knees. I scurried into the tub in between contractions, with my nightie still on. Once the door was closed and we had privacy, my husband took off my nightie for me. With the next contraction I threw up and had a bowel movement into the water: so much for a water birth! I told my husband to drain the tub and he suggested we try turning on the shower. That felt horrible to me and I begged him to turn it off. So I just hung on to the side of the tub near the faucet and screamed through a few more contractions, each of which came with two or three big pushes. My husband knelt behind me and kept telling me that I was doing great. I was actually quite overwhelmed about what was happening to me. It still hadn't sunken in that I was currently delivering my baby! Nevertheless, I continued to focus on the fact that God was with us and was totally in control of the birth. Even though I felt overwhelmed, I felt safe in God's hands at the same time.
Soon I felt something like a large ball descending through my pelvis. I screamed as I pushed because it felt as if this huge ball was going to burst out of my back side! I had about two contractions like this. With the next two contractions I felt the baby descend very low and then slide back up a bit. Then with the next contraction the head was visible to my husband. I felt that same spongey object again "is that really the head??" I said. The head was out with the next contraction. My husband didn't know if everything was ok, as the baby wasn't moving, although she had spit a bunch of mucous out of her mouth. He told me she was almost out and to just push a couple of more times. I panted back that I had to wait for another contraction: I was instinctually panting between contractions. My husband then called out to Sheila, who was just outside the door and asked what the baby should be doing. She said "it will rotate to face the inner thigh" as I felt the baby squirm into just that position (a very cool feeling!). The next contraction came then and I pushed her the rest of the way out. She slid down the back of my leg and onto my husband's hands on a towel in the bottom of the tub. It was over! "What is it, what is it??!" I cried. He said "it's a girl." "Is it really a girl?" I asked. "Yes, it's a girl" He said and I turned around to sit down in the tub and see her.
She was all pink and snoring softly. She spit out more mucous. Sheila came in to see how she was doing. She said we needed to get her going, so we all called her name and rubbed her. My older daughter was there too calling "wake up Eloise!" She roused and started to cry a loud squeaky cry. I brought her up into my arms. "That was easy!" I said with a smile. Yes, it was intense, painful, hard work, but at the same time, it was so simple, so perfect and uncomplicated. In that moment that huge mountain I called vbac eroded away to nothing. I had expected vbac to feel much more like fighting a huge battle and coming out victorious on the other side; I expected an epic event! Instead, it all felt very ordinary. It was just an ordinary day on which my baby found her way from the inside of me to the outside. And there she was, so beautiful and perfect: such a miracle! How could this miraculous experience feel so ordinary? It just felt "right," I guess, so unsurprisingly right.
My mother showed up at 3:00 pm, about 15 minutes after the birth. She had been planning on coming at the onset of labour to take m 3 year old home with her, but by the time we decided it truly was labour, she cancelled the rest of her appointments for the day and headed out the door, it was 2:00 pm and it takes an hour to drive from her house to ours. When she came in the door my husband told her the news with a big smile. She had to grip the wall to compose herself! She came in the bathroom to see me and my newly birthed baby and broke into tears. She was certainly feeling a great deal of relief that our baby was born healthy and safe.
I went and lay down on the bed with Eloise and we tried to nurse for a long time before she figured out how to latch. In the meantime, she cried quite a lot. A few hours later Sheila came to me and said I really should try to deliver the placenta. I was in such bliss, I was not concerned about the placenta. I was unaware of the passing time though and Sheila was right to encourage me to get up and work on getting the placenta out. I tried squatting over a bowl on the floor and then pushing on the bed. I had too much company though (my husband was there and people were coming in and out of the room). Since we had cut the cord already, someone took the baby and I went into the shower to both clean off and push out the placenta, which plopped out after a mighty push. After I was all cleaned up I finally sat down at the table to eat some pizza: the first I had eaten since 7:00 that morning. It was about 6:00 pm by then. Sheila, after having done many loads of laundry, took her leave and my mom left with my older daughter soon after.
My husband and I were left with our new baby to enjoy the afterglow of our amazing birth day. I just kept thanking the Lord over and over in my heart for blessing us with this baby, for which we had long hoped. He had brought me through a challenging, three year journey from surgical birth to unhindered vbac, showing me his unwavering love and faithfulness every step of the way. I marvelled at what had just transpired in our little apartment: I had finally given birth! I couldn't deny that the Lord had done it all. All I did was trust that he was able to take care of me and the baby, which was easy to do considering what a mighty God He is.
(NOTE: Want a Perfect Birth Plan Template? Use this template and step-by-step videos to write a birth plan that gets your birth team on your side for a beautiful birth experience! Get the birth plan kit here.)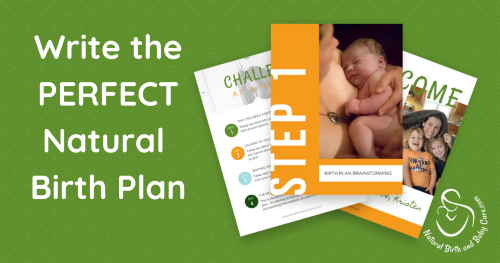 [no_toc]