by Julie, USA
It was our 5 year anniversary, so Ryan and I went camping in Kentucky to celebrate. A few weeks later we learned that a precious little life had begun inside me that weekend. We were terrified, but also thrilled. The next couple of months were difficult. I was bleeding and we were afraid we might lose the baby. Although it was a trying and emotional time, going through it made our desire for this child so much stronger.
At about 13 weeks the bleeding stopped and my pregnancy began to seem real. I started learning as much as I could about pregnancy and birth. I knew that I wanted to do everything I could to give our child the healthiest and gentlest start to life. After a lot of research, I felt that a home birth with a midwife I trusted would be the best option for us. I was blessed to find two midwives, Sara and Anne, who work together that I connected with and I began care with them during my third month of pregnancy.
I really enjoyed being pregnant. I felt great, physically, and I loved the anticipation. At about 18 weeks, we had an ultrasound and found out that we were having a girl. I was so excited. I had been secretly hoping for a daughter. We decided to name her Sage Makena. Sage means "characterized by wisdom, prudence and good judgement" and Makena means "happy one." Those seemed like good wishes for our child.
Thursday, April 15th
I was 37 and a half weeks pregnant when my water broke. It was a beautiful spring day and I had just begun a morning hike with my friend Gemma when I felt a warm gush between my legs. I was completely shocked. We headed back to the car and I called Sara, one of my midwives. She asked me a few questions and confirmed that it sounded like my water had broken. She said labor usually starts within 6 to 12 hours.
I called Ryan and my parents and broke the news. We were all so excited. Within a day we'd get to meet little Sage! My brother and his wife heard the news, packed their bags and drove up from Florida. My parents booked a flight for the following day. Ryan and Gemma kept me company most of the day as I waited for labor to begin. Sara and Anne came over and gave me a homeopathic remedy to take to help things get started. We went on a lot of walks and spent some time making jewelry in the backyard.
Slowly, some contractions began. First they were very irregular. Then, they started coming consistently, every 15 minutes. I was focusing a lot of energy on keeping them coming. It almost felt as though I was causing labor to continue with my mind.
By 10pm the contractions were every 2 or 3 minutes and a lot stronger. I still felt like I was in control of my labor. I asked my midwives to come over. I was sure that it wouldn't be long before things got really intense. For the next few hours I relaxed through the contractions and there was very little change. Sara and Anne recommended that I get some rest, because it could still be a while before I was in active labor and I would need my strength.
I was shocked. Get some rest? I was having strong contractions every 2 minutes! How was I supposed to sleep? Disappointed, I took their advice and laid down in my bed. Before long I was dozing in and out of sleep between contractions. Sleeping felt so good, but every 15 minutes or so a strong contraction would bring me back to consciousness and the pain was much worse than when I was awake because I was laying on my side and couldn't anticipate when they were coming. It was a very long, uncomfortable night and when I awoke in the morning the contractions had completely stopped.
Friday, April 16th
I called Sara and told her that my contractions had stopped and she suggested I start taking Black and Blue Cohosh every 30 minutes and go for a walk. I took her advice and spent the morning and afternoon taking herbs, going for walks and bouncing on my birthing ball. I kept telling myself that I was ready for labor to take over, but deep down I sensed my hesitation.
The painful contractions I'd had during the night left me feeling weak and afraid of how intense labor would eventually become. Sara came over in the afternoon and we talked about our time frame, since my water had broken 36 hours earlier. She said that I didn't need to go to the hospital, as long as there were no signs of infection, but that we needed to be conscientious about time. We talked about taking Castor oil to get my contractions going, but I was scared because it can cause nausea and I despise that feeling more than anything.
She also mentioned that they have worked with very small doses of Cytotec as a last resort and have found it very effective. I was resistant to that idea, but I trusted my midwives and I knew I would prefer it over going to the hospital and being put on Pitocin. During my conversation with Sara I became very emotional and cried for a while. It felt like it was never going to happen. I couldn't imagine that my baby was ever going to come out. Sara talked with me about allowing labor to take over and letting go. I knew that was what I had to do, but I also knew that I wasn't ready. That evening my parents got into town and we went out to dinner with my brother and his wife. It was just a normal evening, as if my water hadn't even broken the day before. I went to sleep early, so that I would be rested for whatever the next day would bring.
Saturday, April 17th
I woke up at 5am, swallowed 2 ounces of Castor oil and went back to sleep. My mental perspective had shifted and I knew I had to surrender. I couldn't try to control my labor any longer. It had been nearly 48 hours since my water broke and I had to get my baby safely out, no matter what I had to go through. I awoke a few hours later and still no contractions, no cramping, not even any nausea. I took 2 more ounces of Castor oil and asked my mom to come over and hang out with me.
Anne came over and checked on me and the baby. She suggested we go on a walk and try nipple stimulation. So, we went on a walk and every 5 minutes I would discreetly rub my nipples a bit and before long some mild contractions started coming. When we got back from our walk I put Castor oil and a heating pad on my tummy for a while. By 4pm my contractions still seemed insignificant. I knew I had to get my baby out safely before another day went by and the risk of infection continued to increase.
I hated to do it, but I decided to call Anne and tell her I was ready to try the Cytotec. She said she would be over in about an hour with it. My mom and I went out in the back yard and walked around for a while. Suddenly my contractions became a lot more intense and closer together. My mom started timing them and they were consistently 3 minutes apart. By the time Anne came over with the Cytotec, my labor was in full swing and I no longer needed it! I was praying that each contraction would be stronger than the last and it was.
At 5:30pm, Sara came over and shortly after that I felt the need to retreat into my bedroom and concentrate. Ryan came with me and comforted me through some strong contractions. The intensity was definitely much stronger than it had been on Thursday evening, but it was also more manageable. With each contraction I felt a high come over my body that compensated for the pain. The stronger the contraction, the better the natural high would be.
At this point everything becomes somewhat of a blur in my memory. I had very little concept of time, but we must have been alone in our bedroom for an hour or two when I decided to take a shower. Ryan sat with me in the bathroom as I let the warm water run over me, easing the pain. The hot water ran out far too quickly and I really wanted to get into the birthing pool, but I thought it was much too early for that. Ryan asked Sara whether she thought it would be a good idea and she came in to check on me. She said she wanted to check my cervix, but I told her there was no way I could lay on my back at that point. She said to go ahead and just get in the pool.
The first contraction I experienced in the pool was terribly uncomfortable. Something just didn't feel right and I thought it must be the water. Sara suggested I check myself and see if I could feel anything. I reached down and checked and to my surprise I felt her head only half an inch away! I realized that the uncomfortable contraction was my body trying to tell me to push.
With the next contraction I shifted into pushing mode and began to ease my baby out. This stage felt very long to me. I kept thinking that every push would be the last. Finally, I said "The head is out." Sara checked and said, "It's not all the way out yet." When I heard that I gave one more push and felt instant relief as her little head popped completely out. Sara said that the cord was wrapped around her neck and so she reached in and helped her little shoulders out as I pushed and she was free. Ryan caught her and brought her up to my chest.
In an instant, the haze disappeared and reality set in. I was holding my daughter! She looked so beautiful to me, despite how wrinkly and covered in vernix she was. She calmly looked up at me before letting out a sweet little cry. I put her to my breast and she latched right on to nurse. It was an incredible experience.
My whole family joined us shortly after the birth. I was so glad to have all of them there with us. Ryan's family even joined us via Skype video chat. Sage was born at 9:03pm, 60 hours after my water broke, after just 3 1/2 hours of active labor. She weighed 6 pounds, 8 ounces and was 18 1/2 inches long. It felt so good to fall asleep in our own bed that night, with our new little baby asleep on my chest. I wouldn't trade this experience for anything in the world.
(NOTE: Want a Perfect Birth Plan Template? Use this template and step-by-step videos to write a birth plan that gets your birth team on your side for a beautiful birth experience! Get the birth plan kit here.)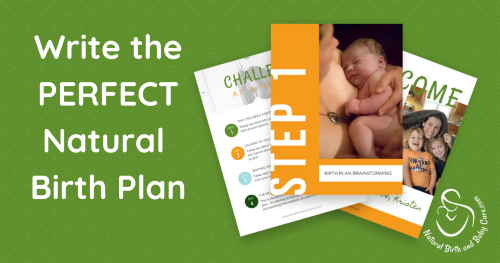 [no_toc]